La Desmontegada de le caore
special price for the lifts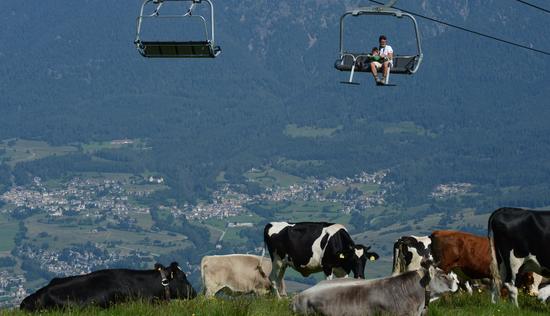 September is just around the corner and it is time to desmontegar, a long-standing, never-ending Fiemme tradition. This year, the Desmontegada de le Caore has not stopped. On the contrary, goats and their breeders will be parading in the streets of Cavalese in what will be a special edition of this annual event. The breeders will be accompanied by music and folklore, creating a unique atmosphere and unforgettable memories for visitors.
For three days, you will get the chance to savour local food and celebrate the return of goats from mountain pastures in many different ways: tasty activities for gourmets, extraordinary walks at sunset or sunrise, special moments of relaxation, delicious aperitifs at high altitude or in one of the numerous village squares and riveting performances that will allow you to find out the secrets of Cavalese and the Magnifica Comunità di Fiemme.
For a memorable experience, listen to breeders and their fascinating stories, visit cowsheds and the typical alpine farms called malghe, participate in workshops and enjoy tastings of exquisite Fiemme delicacies. And if you are looking forward to discovering the authentic flavours of Val di Fiemme, take a moment to visit the traditional food fair Magnifici Prodotti di Fiemme, where you will find gourmet products and mouth-watering dishes which will turn your holiday into an unforgettable experience.
SPECIAL PRICE RIDE UP FROM CAVALESE/FONDOVALLE-PAION DEL CERMIS
UP & DOWN EURO 5
Lifts all-day opened from 09.00 to 17.30*
*please verify at the ticket office the last ride down
Check out the detailed program below!

All the activities will be organised in compliance with anti-Covid measures and rules in force.
The activities marked with an asterisk (*) are restricted to the holders of the EU Digital COVID Certificate or to those showing proof of a negative PCR or rapid antigen test result. For it to be valid, the test must be done not more than 48 hours before.
The aforementioned rules do not apply to people exempt and to under-12s.