September Fest
Muisc, food and good beer!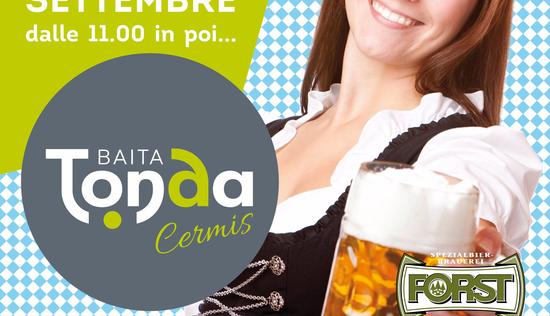 We are waiting for you, on Sunday 15 September at Baita Tonda (loc. Doss dei Laresi 1280 m), for the Oktober theme party, with music live, deejay sets, grilled meat and good beer.
11.00 AM | Duo Alpensunn play traditional music while you are aeting Bavarian Breakfast with Weisswurst, boiled meat,
Brezen, sweet mustard and beer!
12.00 AM | Enjoy lunch with grilled meat, polenta and bread directly on the terrace
01.00 PM | Val di Fiemme Hockey Club with autograph corner in the afternoon
03.00 PM | The Lucky Trikes Horror Party... such a surprise!
INFO BAITA TONDA
Tel.3457257443