DOLOMITI SKI JAZZ
Wednesday 13.03.2019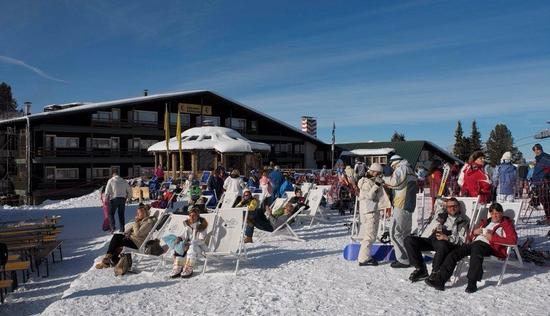 DOLOMITI SKI JAZZ
EUROTEL CERMIS 2000 M
from 12 pm
Concerts perfect for…skiers. The Dolomiti Ski Jazz festival is a mixture of passions for winter sports, black music and alpine nature.
The day-time concerts of the festival, celebrating its 22nd edition from March 9th to March 17th, will bring their exciting rhythms straight to the ski slopes of Val di Fiemme.
Live music framed by the Dolomites peaks, thrilling rhythms resounding on the snow of the ski slopes. The distinguishing feature of the Dolomiti Ski Jazz festival are the outdoor concerts held every day at lunch time in the mountain huts (all free of charge).
Roberto Bindoni "Unquiet" Quartet (Italy)
Roberto Bindoni - guitar
Matteo Cuzzolin - tenor saxophone
Marco Stagni - bass
Filip Milenkovic - drums
Eath and air, ice and fire: a dreamlike journey among opposing musical scenarios, alternating art music with melodies, influenced by popular tradition. Their project includes original pieces that look at music from Northern Europe and contemporary jazz as a refernce point, searching for a relationship between written and improvisation music, through a language coming from jazz. Four musicians. Four ways of interpreting their musical and inner world, finding the perfect equilibrium for the project.
A genuine, refined and brave quartet.