Desmontegada de le Caore
Suggestive festival dedicated to the goats and their coming back from the summer pastures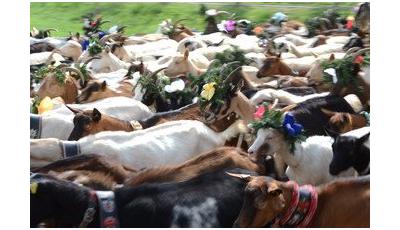 !! 15 SEPTEMBER 2019 !!
Suggestive festival dedicated to the goats all decorated with crowns of flowers for their coming back from the summer pastures. The flock, accompanied by their shepherds, will parade down the streets and give life to a fabulous colourful and traditional celebration.

More than 350 goats will walk amid the houses of Cavalese with the malga owners. This is the celebration of naturalness, colours and genuineness, where you can feel the typical mountain people's joy for life. After the parade, big party in the main square to feel once more the magic, the real cordiality and the richness of a world made of beauty, stubbornness and – most of all – deep respect for the mountain rituals and secrets.

Desmontegada of Cavalese is animated by musicians and characters remembering the ancient professions. Moreover, there will be a market of artisanal products, food and drinks composed of evocative little wood houses in the main village of Val di Fiemme. There you can buy goat's cheese, butter, ricotta, mountain honey and many other delicious products.

In the restaurants you can try 0-km menus thanks to the food&drink festival called "I Magnifici Prodotti di Fiemme": speck, sausages, ricotta, goat's or cow's cheese like "Puzzone" produced in the cheese-making factory "Caseificio Sociale di Predazzo e Moena" and the delicious "Formae Val Fiemme" produced in Caseificio Sociale di Cavalese, famous for its high protein, calcium and phosphorus contents.
These delicacies, the crown jewel of "The Road of Cheeses of the Dolomites", are promoted and proposed by the "Tradition and Taste" club of Val di Fiemme. This club, thanks to the sharing of experiences, cheese-making factories, malgas, small charm hotels, bed and breakfasts, farms, restaurants, inns, artisans, beekeepers and local producers of cold cuts, speck, honey, wild berries, jams, herbal teas, grappas, sours of blueberries, apples and raspberries, saffron Zafferano della Val di Fiemme, aromatic herbs, beer Birra di Fiemme and natural cosmetics.
TICKET A+R CAVALESE - FONDOVALLE = EURO 5 ADULTS
TICKET CAVALESE - PAION - FONDOVALLE - PAION - DOSS DEI LARESI - PAION A+R = EURO 8,00 | Opening 09.00 am - 07.00 pm
INFO APT VAL DI FIEMME