Trekking on the Dolomites
Excursion to discover the gems of the Lagorai
In the heart of Val di Fiemme, Alpe Cermis, 2230m of height is an unspoilt natural paradise with woods, alpine lakes, eagles and marmots, the ideal destination if you want to spend a healthy and relaxing holiday, breathing pure air and living in close contact with pristine nature.In the summer the choice of trekking courses is wide and varied, here's a small selection of the most famous itineraries:
BOMBASEL LAKES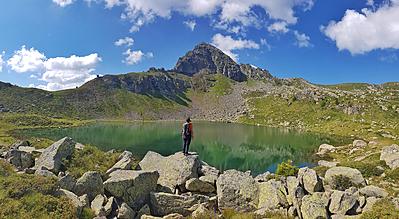 A short and easy hike in the mountains that is doable by families with an alpine guide free of charge if you have the Fiemme E-motion card
The Bombasel lakes, reflecting a pale emerald green color, lie in a silent basin with a view of Castel di Bombasel, surrounded by a series of meadows dotted with bushes and rock.
Every Tuesday from June to September
Meeting time: Cavalese 8.45 – Fondovalle 9.10
Departure: 9.15
Duration: ¾ hour – difficulty MEDIUM/EASY
Paion del Cermis (2,230 m.) is reached by cable car. You follow path no. 3 as far as Forcella di Bombasel (the Bombasel Col) and then no. 4 until Cimon del To della Trappola (2,401 m.) where there is a fantastic panoramic view. Continuing along the Crest of Castel di Bombasel you reach an altitude of 2,395 m., from which you then descend to the Bombasel lakes (2,268 m.). After the lunch break return to Paion del Cermis via path no. 3 – 353 of the Forcella di Bombasel.
If, instead, you are an enthusiast of excursions and hiking in the mountains, and you want to experience contact with nature in solitude, download the complete map and discover all the splendid Alpe Cermis itineraries; we give you a couple of ideas below!!!