Ride the waves of the Avisio river: a rafting adventure in Trentino at the feet of the Cermis mountain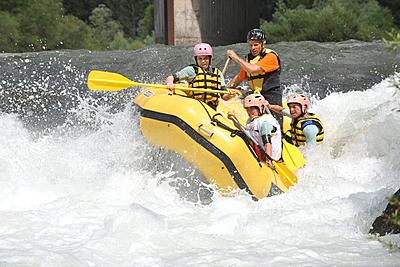 AVISIO RAFTING in Trentino: Ride the waves on the Avisio river
Avisio Rafting, with offices in Masi di Cavalese in Trentino at the Fondovalle Station, gives you the possibility of experiencing the excitement of descending the Avisio river in a rubber dinghy. It's a thrilling group sport practiced in total safety.
The descent lasts around 3 hours and can be done by anyone who knows how to swim and is aged between 8 and 80! The route starts from Masi di Cavalese and arrives at the Molina di Fiemme dam for beginners, while the more expert follow the Ziano – Lago di Tesero route.
For those who want to try a different experience, Avisio rafting also offers canyoning excursions: exciting descents on the river water between the rugged walls of alpine canyons, surrounded by the wonderful Trentino landscapes and you reach places which are completely wild and intact. Canyoning is a sport accessible to everyone starting from 15 years of age.
The equipment for rafting and for canyoning is provided by the instructors. You just need to bring a bathing costume and a towel!
AVISIO RAFTING PRICES
Prices include the use of equipment: wet suit, shoes, life jacket, helmet and dinghy plus the assistance of an expert guide
Adulti: € 40.00
Bambini: € 28.00
Bookings. info@avisiorafting.it – Tel. 3475323839
Easily reachable from Cavalese, using the Casalese-Fondovalle Cable Car.
For more information visit the AVISIO RAFTING website.