A view of the largest natural area in Trentino; this is the Dolomites panorama
LAGORAI 360°, a view from Lagorai of a breathtaking landscape: Dolomites panorama!
Situated at 2,250 m. at the summit of Paion del Cermis, it's a fully equipped observatory from which it's possible to admire and recognize the splendid mountains that surround Alpe Cermis, in particular a number of the Dolomite mountains. Towards the south you can see the majestic Lagorai chain, characterized by the dark volcanic rocks, while towards the west and east the panorama is dominated by the Dolomites, a Unesco World Heritage Site (June 2009).
There are as many as 11 dolomitic groups that you can admire from this exceptional spot: Brenta, Latemar, Antermonia, Sassolungo, Sella, Marmolada, Cristallo, Antelao, Pelmo, Civetta and Pale di S. Martino. The glaciers of the Retiche Alps (Ortles, Gran Zebru, Similaun, Palla Bianca, etc.) are also visible.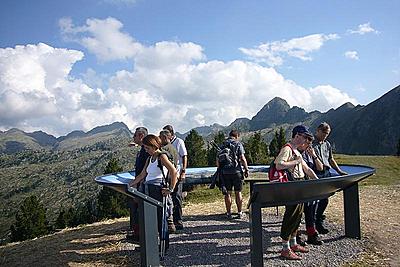 The installation has been designed and constructed like a compass, and is therefore oriented according to the compass points, allowing you to identify and know the name of every single summit visible through a simple series of sights and targets. The names of the main resorts and valleys in Trentino are also shown in order to help understand the complex geography of this splendid alpine region.
Collect your free 360° panoramic photograph at the skipass office in Cavalese or Fondovalle.