The Cermis sun also lights up the night
ILLUMINATED OLIMPIA 3
Closed from the 30th March 2018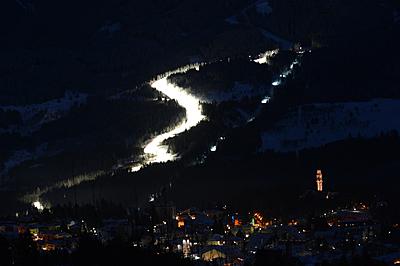 FROM LIGHT TO NIGHT
The Cermis sun also shines at night. Here the day's skiing doesn't end in the afternoon but on Wednesdays and Fridays you can also ski at night from 19.30 to 22.30...discover the magic of night skiing!
If you buy a season ticket or the multi-day ticket you can ski at night … for free!
Every Wednesday DEEJAY-SET CHRIS from 7.30 p.m to 10.30 pm!
NIGHT SKI PASS
ADULT € 18.00
JUNIOR € 11.50
(born after 25.11.2001)
CHILDREN free*
*if a parent buys a night ski pass at the same time (for children born after 25.11.2009)