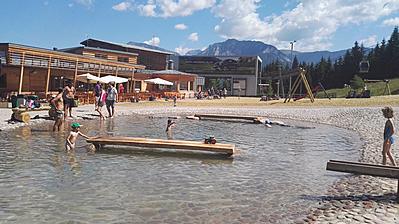 Località Doss dei Laresi 1280 m
The Cermislandia playground is free admission.
Easy to reach with the gondola lift, located near the Baita Dosso Larici refuge, the Magical kingdom of Cermislandia is a fun park in the mountains that offers children the opportunity to play outdoors and spend days in complete freedom. What's more beautiful than running carefree in a green lawn or playing hide and seek among the firs? You can also cool off in the pond or go down the slope with a zipline. A magical place, where the keyword is: leisure!
And for the big ones? Relax, lots of sun and the good fresh air of Cermis.
Cermislandia has obtained the "Family in Trentino" brand.

WEEKLY ACTIVITY PROGRAM Family
From 25 June to 19 September 2018 on the following days: